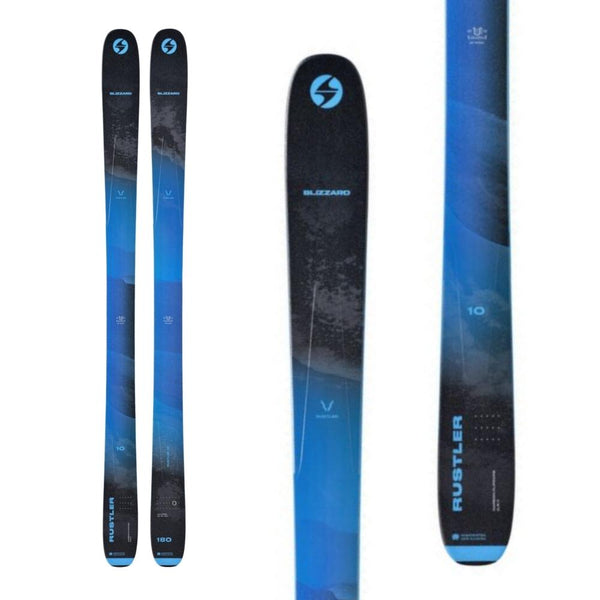 The Blizzard Rustler 10 skis are part of Blizzard's award-winning freeride collection that is targeted towards skiers who want to charge the entire mountain. From big airs to big lines, these skis are equal parts playful and powerful. With a waist width of 102-104 depending on the length of the ski, they fall right in the middle of freeride line up, and have a metal laminate underfoot that ends to where the tip and tail rocker of the ski begin. This keeps the ski powerful and damp underfoot while making the tips playful and forgiving to release in and out of turns, while also giving it the ability to pivot, slash and smear your way through soft snow, wind buff and powder. The Rustler 10 uses Trueblend technology in its core, which intentionally uses different density wood blends at the length of the core, that provide the appropriate amount of stiffness that delivers a very smooth a balanced feel that delivers both confidence and control. The result is a ski that is less demanding in tight terrain with better float and playfulness in powder. Underneath, a compound wood core and two Carbon Fiberglass sheets make the skis feel longitudinally calm at speed without making the torsional stiffness overbearing. Advanced to expert skiers looking for ski that blurs the line between freeride and all mountain will love the all –around versatility of the Blizzard Rustler 10.
Features:
Side cut: 135.5/104/125.5 mm at 188 cm length
Turn Radius: 19 meters at 188 cm length
4040 grams at 180cm
Rocker/Camber/Rocker Profile
Carbon Flipcore DRT Construction
Rustler 9 Online
Ordered the Rustler 9. Easy process, quick delivery. Can't ride them till winter as I don't live near Mammoth.
2024 Blizzard Rustler 9
I was trying to track down a pair of skis hard to find an these guys delivered.
Great advice, price , and delivery.
Highly recommend.
And yes I love the skis
Great Staff and very helpful
I will definitely purchase from them again!! They went out of their way to get me on the blizzards I needed!!
STAS was awesome!
I wanted to get my hands on some new model Rustler 9s and Chris at STAS was incredibly helpful. He first offered to hold his one pair of demos in my length (I was traveling in from out of town) and then we had a conversation that convinced me these were the right skis so he put a pair along with some bindings aside for me and mounted them within hours of me arriving and dropping off my boots. I was on the mountain the next day and LOVE them. Thanks Chris! As for the skis - they rock. I was looking for something more playful and easier to steer in trees/bumps than Brahma 88s, but that could still rip down groomers. The elusive one ski quiver. This fit the bill perfectly. Skied everything from very firm almost icy end-of-day groomers to trees and bumps to 6-8" of powder and the ski never let me down. Felt more confident than ever. I tried last year's R9s and I totally recommend these over them - moving the metal to the edges instead of down the middle removed the floppiness at speed.
2024 Blizzard Rustler 10 Review
Skier: 5'8" ,165 lbs. life long skier, skiing mostly groomers with some off piste activity
Reason for purchase: interested in new design since the Rustler 10 has been my daily driver for 2+ years now
Current/Past Set Up: current is the Rustler 10 (180cm) with Marker Duke PT 16 bindings, past is Rustler 10 (180cm) with Marker Baron bindings.
Days Skied/Conditions: 6 days/ "hero" snow to rained on saturated snow, some icy patches. no fresh or deep powder.
Observations: better edge feel underfoot (grippy) than previous design. Maybe not quite as lively as previous design (needs slightly more input to initiate a turn?). More energy available from the tails resulting in a good solid pop out of a turn. Overall I'm pleased with the design changes, seems to make the Rustler an even more capable freeride ski.