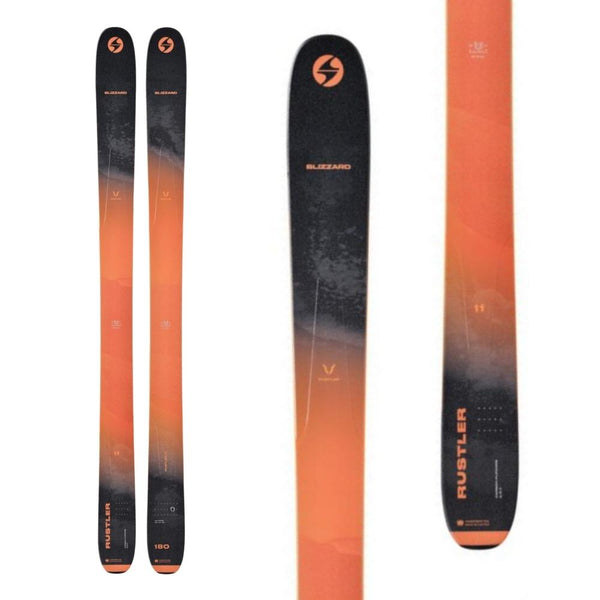 The Blizzard Rustler 11 is the widest offering in Blizzard's freeride series line up. At 116 millimeters underfoot at the 192cm length, this ski is meant to float, plane, surf and smear the deepest of snow. Untracked, deep, fluffy powder is the name of the game for the 11 and it's designed to make the most of those memorable days. What makes it unique is that its shape and construction does give it a slightly more well-rounded feel than some powder skis out there. In other words, Blizzard worked some stability into this ski to go along with a surfy, maneuverable, super-fun feel. There's a reason why so many Blizzard athletes choose the Rustler 11 for as their go-to ski for film shoots or competitions. Many Freeride World Tour competitors on it depending on the venue and snow conditions. It has an excellent blend of maneuverability and playfulness while having some nice stability and power underfoot. The multi-layer wood core is a blend of beech, balsa, poplar, and paulownia for weight savings and natural dampening properties. Carbon Flipcore Dynamic Release Technology is a Titanal layer that is edge to edge underfoot but tapers down into the tip and tail for rigidity without sacrificing playfulness. The Blizzard Rustler 11 is an awesome option for the advanced to expert level skier who's looking for a powder-hungry charger.
Features:
Side cut: 143/116/123 mm at 192 cm length
Turn Radius: 23 meters at 192 cm length
FlipCore Wood Core
D.R.T. Titanal
Dual Carbon Fiberglass Compound
Unidirectional Carbon Fiber Tips
Sandwich Compound Sidewall
Rocker/Camber/Rocker Profile
Rustler 9 Online
Ordered the Rustler 9. Easy process, quick delivery. Can't ride them till winter as I don't live near Mammoth.
2024 Blizzard Rustler 9
I was trying to track down a pair of skis hard to find an these guys delivered.
Great advice, price , and delivery.
Highly recommend.
And yes I love the skis
Great Staff and very helpful
I will definitely purchase from them again!! They went out of their way to get me on the blizzards I needed!!
STAS was awesome!
I wanted to get my hands on some new model Rustler 9s and Chris at STAS was incredibly helpful. He first offered to hold his one pair of demos in my length (I was traveling in from out of town) and then we had a conversation that convinced me these were the right skis so he put a pair along with some bindings aside for me and mounted them within hours of me arriving and dropping off my boots. I was on the mountain the next day and LOVE them. Thanks Chris! As for the skis - they rock. I was looking for something more playful and easier to steer in trees/bumps than Brahma 88s, but that could still rip down groomers. The elusive one ski quiver. This fit the bill perfectly. Skied everything from very firm almost icy end-of-day groomers to trees and bumps to 6-8" of powder and the ski never let me down. Felt more confident than ever. I tried last year's R9s and I totally recommend these over them - moving the metal to the edges instead of down the middle removed the floppiness at speed.
2024 Blizzard Rustler 10 Review
Skier: 5'8" ,165 lbs. life long skier, skiing mostly groomers with some off piste activity
Reason for purchase: interested in new design since the Rustler 10 has been my daily driver for 2+ years now
Current/Past Set Up: current is the Rustler 10 (180cm) with Marker Duke PT 16 bindings, past is Rustler 10 (180cm) with Marker Baron bindings.
Days Skied/Conditions: 6 days/ "hero" snow to rained on saturated snow, some icy patches. no fresh or deep powder.
Observations: better edge feel underfoot (grippy) than previous design. Maybe not quite as lively as previous design (needs slightly more input to initiate a turn?). More energy available from the tails resulting in a good solid pop out of a turn. Overall I'm pleased with the design changes, seems to make the Rustler an even more capable freeride ski.