2023 K2 Reckoner 112 x Brain Dead Limited Edition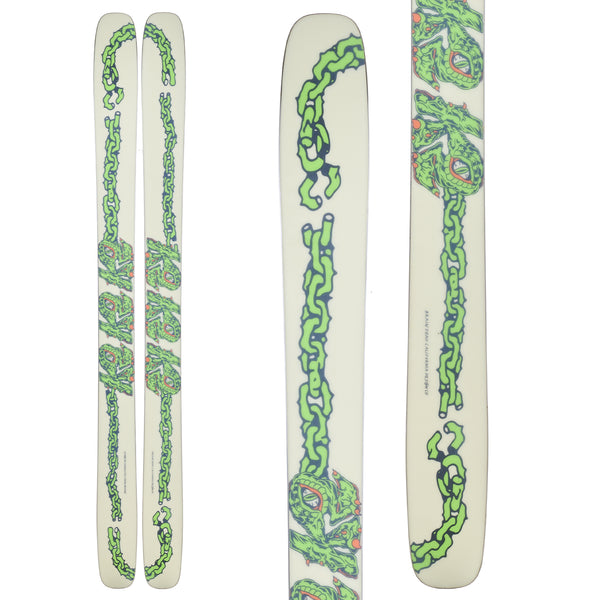 Bounce from treetop pillows? Check. Slash two feet of fresh powder? Check. Cut through crud like butter? Check. The list goes on for the K2 Reckoner 112 Skis. These all purpose, free-style friendly rippers take you from hucking natural features on the frontside to steep and deep descents on the back without missing a beat. With impact resistance tech in the core and woven carbon stringers throughout, these skis have an energetic rebound so you can stay out all day giving it heck.
These are a collab between K2 and Brain Dead Design Co, and there are not a whole lot of them out there! Now's your chance to get your hands on some skis that will definitely turn some heads out there this season.
Rocker Type
All-Terrain Twin Rocker – All-Terrain Twin Rocker is a gradual, extended rise at the tip and tail for added versatility and control in all conditions with twin tip skis.
Core
Double Barrel Core – The backbone of the Factory Team collection, Double Barrel cores combine a dense, Fir core over the edges for power and impact resistance, with a lighter Aspen center core for a lively energetic feel.
Laminates
Carbon Spectral Braid – A variable angle carbon fiber laminate allows the torsional and longitudinal stiffness to be adjusted independently. This construct keeps skis lighter and more playful for conditions when power and damping are less important.
Carbon Boost Braid – Longitudinal carbon stringers woven into the K2's patented Triaxial Braid for added pop and rebound, found on freeride and factory team skis.
Sidewalls
TwinTech Sidewalls – A durable sidewall construction originally developed for twin tip skis that makes the top edges more resistant to ski vs. ski impact damage
Size (cm)
170
177
184
191
Tip Width (mm)
136
136
136
136
Waist Width (mm)
112
112
112
112
Tail Width (mm)
127
127
127
127
Turning Radius (m)
22.9
Amazing
Loved the new skis I bought. Work like an absolute dream.