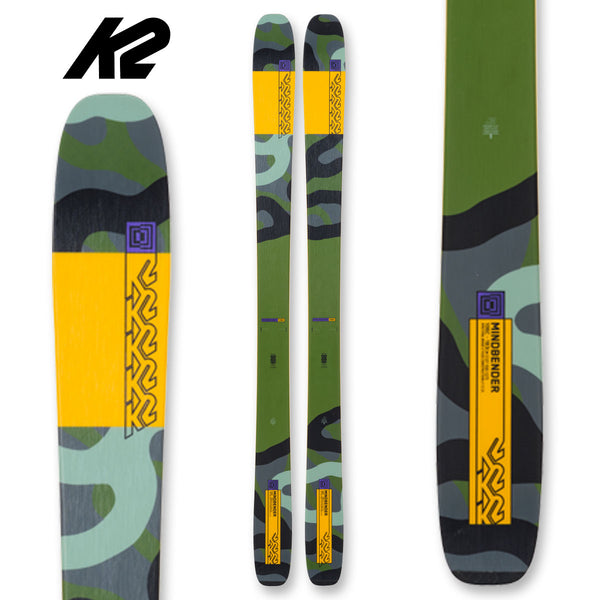 DESCRIPTION
The all-new K2 Mindbender 106C redefines all-mountain performance in a weight conscious and playful package. Purpose-engineered to excel in a variety of conditions while maintaining playful maneuverability and stability. 
Strapped with K2's patented Spectral Braid Technology, first-of-its-kind variable-angle fiber reinforcement that allows for precision-tuned torsion. The 106C delivers a stable experience, keeping you planted and engaged in every turn. Uni-Directional Flax improves the skis' ability to track in variable terrain, making them maneuverable and composed. 
At a more approachable waist width, and without sacrificing mid-range performance, the 106C are nimble, dynamic and supportive; they are the ultimate one ski quiver everyone should have in their lineup.
CORE

Aspen Micro Block
LAMINATES
Spectral Braid
ROCKER TYPE
All-Terrain Rocker
K2 Mindbender Purchase
I recently bought a pair of Mindbender's from STAS. I have been a long time customer, albeit with primarily hats. Not only did I get a great price on the skis, I also received the same top notch customer service as I always have throughout my customer relationship with them. Thanks STAS!
Great ski
I bought this ski as replacement for a black crows Corvus. I've been skiing an older model for a couple years at the lifts. It is a great quiver of one ski, and w a very light binding makes a great touring ski, particularly in the variable conditions of the front range. The new model feels like the old one, in the best way possible Fast shipping from ski town all stars
New Skis
Nice place and friendly staff. Stopped in and picked out what I wanted. I was offered the local discount. Skis were ready in 2 days w bindings all set to og. Awesome!!!!!!!!!