2024 Nordica Enforcer Unlimited 104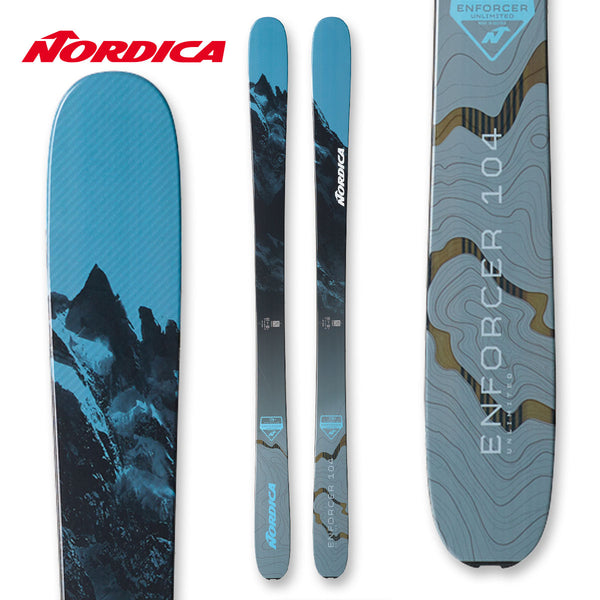 Indulge your thirst for adventure with the Enforcer Unlimited 104. Inspired by Nordica's legendary Enforcer collection, this all-mountain touring ski is at home exploring the resort and helping you earn your turns. Especially easy to ski, the Enforcer Unlimited 104's lightweight construction creates a playful and stable ride that maximizes efficiency on the way up and the ride down. The ski's wide waist provides additional stability and plenty of floatation in deep snow. And to boost confidence and maneuverability in variable conditions, it features an early rise tip and tail rocker with traditional camber underfoot. No matter how you define adventure, the Enforcer Unlimited 104 will help you pursue it.
| | | | | | |
| --- | --- | --- | --- | --- | --- |
| Size (cm) | 165 | 172 | 179 | 186 | 191 |
| Tip Width (mm) | 133 | 134 | 134.5 | 135 | 135 |
| Waist Width (mm) | 104 | 104 | 104 | 104 | 104 |
| Tail Width (mm) | 122 | 123 | 123.5 | 124 | 124 |
| Turning Radius (m) | 16 | 16.5 | 17.5 | 18.5 | 19.5 |
Nordica unlimited
Won't get a chance to try these skis until next season, but the service was excellent
My "Love" Nordica Enforcer 104 Unlimited and Atomic Strive 14 GW Bindings
It took a little research and few demo rentals of many different brands and skis for me to totally convince myself that I needed to purchase the lightest Nordicas ever and the Atomic bindings which are also lighter than most others. Chris at Ski Town helped me with locating the last ski pair with an awesome discount. I got them in last week, had my local Sun And Ski shop in Dallas install the bindings in one day and then I took off for the EPIC Season never ending winter '23 one more trip out west to Park City. The above combo is so light, the skis are so stable I went all over the fresh powder on the mountain including my first dip into McConkey's bowl. I tried them on all terrain, moguls, powder, chop, groomers and the skis did not disappoint me at all for 4 days straight straigth. Turns are easy on anything and carving on groomers is dream come true. They are fast and easy to grow into in a hurry and I have already "up'ed my game". I already feel I am a much better skier with these.
I love them and can't wait to get back on them again.
Thanks to Ski Town for their assistance and great pricing.
switching my brand loyalty over this ski
bought for a light touring setup but have been skiing daily in bounds. new favorite skis for everything but deep powder. fast. easy short turns.
Nordica Enforcer 104's Unlimited
Great ski, great service!