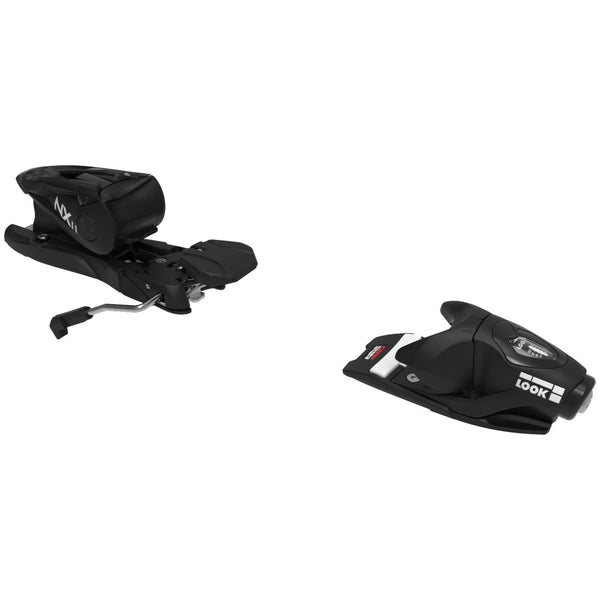 The Look NX 11 GW Ski Bindings are a simple and effective binding system to keep you dialed on the hill. The lightweight design is built for smaller or less aggressive riders, with a big step-in zone for easy entry, a vertical release enabled toe piece for added safety in the event of a fall, and superior retention in the heel piece to keep you locked and loaded in your turns.
Toe Piece
Full Drive Concept Toe Piece – The FDC toe piece offers a lighter weight design with best-in-class elastic travel and 180⁰ multi-directional release delivering reliable retention and release for confident alpine performance.
180˚ Multi-Directional Release – A true mechanical upward release that functions independently from the heel for the most effective multi-directional protection in the case of a fall.
Dual Standard Concept (ISO 5355 Alpine and GripWalk) – Look strategically reinforced the toe housing, increased the toe ramp, elongated the toe-wings, and created a toe that is compatible with both ISO 5355 Alpine and GripWalk soles.
Toe Lateral Elasticity – 45 mm
Heel Piece
NX Heel Piece – A lightweight, easy step-in design, the NX heel offers maximum ease-of-use balanced with confident retention and downhill performance.
Easy Step-In / Step-Out – Wider heel throw offers easy and intuitive entry-and-exit.
Additional Features
Lightweight Composite Materials – LOOK designs lightweight bindings featuring the highest-levels of retention and release that make skiing and carrying your skis easier, without compromising on safety.
Wide Mounting Zone – For better contact with wide skis.
Great binding
Sits really low to the ski which gives you a great feel when skiing