2024 Line Blade Optic 104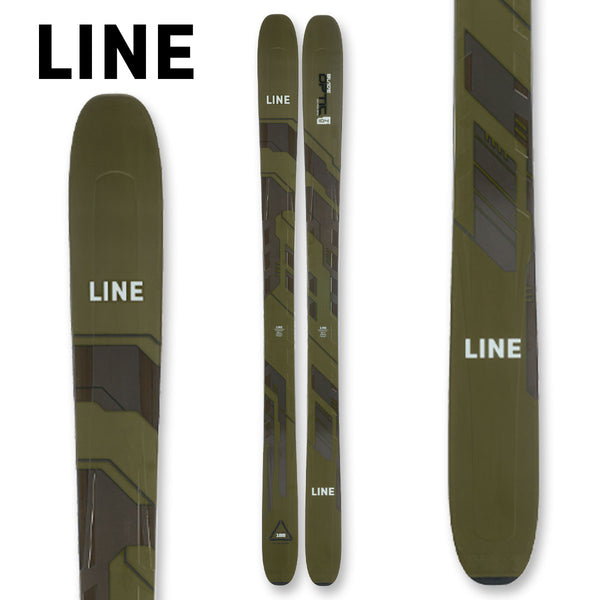 DESCRIPTION
The most versatile ski in the Blade Optic Collection, the Blade Optic 104 is right at home, charging big mountain laps to cruising smooth burns on early morning corduroy and everything in between. Equipped with our Gas Pedal Medal Overdive™ tech, you'll harness the power of an innovative layup of titanal to feel enhanced edge grip, stability, and control under your feet. Get ready to kick it into the top gear and ski with confidence on the Blade Optic 104.
CORE
Aspen Veneer Wood 
LAMINATES
Gas Petal Metal Overdrive™
ROCKER TYPE
Rocker/Camber/Rocker
Versatile and fun
These skis make everything more fun! They were easy to get used to, and even better after a few days on them. At the resort (steamboat), they were great rail on groomers, did well on tracked out chop, very manageable in bumps, were a blast in the trees (easy to scrub speed, pivot quickly etc) , and even did ok with >1 ft of heavy snow (for being 104 under foot).
I took them touring up on Buff Pass, and they were def on the heavy side, but that is not their intended purpose.
The tips flex enough to not get spanked on steeper mogul runs, the tails are very predictable, and they are stout enough overall to lay down some carves and make fast hero turns on groomers. I mounted Kingpins to them, and imagine they'd hook up better with a standard resort binding like Pivot's etc
At A Basin they raged - perfect ski for scratchy / steeper terrain and letting em rip on wide open runs.
I got them for a travel ski for Big Sky and Bridger - think they will be perfect!