2024 Nordica Enforcer 100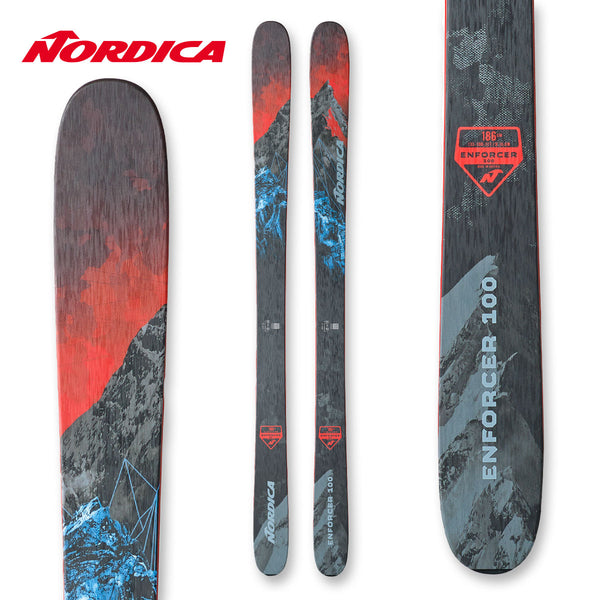 It's not easy to make a ski that's universally loved by seriously badass skiers, and at the same time a no brainer to recommend to strong intermediates. But that's exactly what Nordica has done with the Nordica Enforcer 100. The Enforcer line has by now become a perennial staple in "Best Ski of the Year" discussions, and the latest rendition is no different. For a trusted ride that's especially smooth and stable, it pairs an all new carbon chassis with a new core profile and two sheets of metal. In addition to dampening vibrations and reducing weight, this creates a more forgiving ski that also maximizes stability and response. And to boost confidence in variable conditions, the Enforcer features an early rise tip and slight tail rocker with traditional camber under foot. Smoother and more playful than ever, the new Enforcer 100 redefines what an all mountain ski can do. If you haven't gotten on an Enforcer by now, do yourself a favor and try it out - you'll understand the hype.
Construction: ENERGY 2 TI
Rocker: ALL MOUNTAIN ROCKER
Core / Materials: PERFORMANCE WOOD + METAL + SIDEWALL
Factory Base Bevel: 1°
Factory Side Bevel: 2°
| | | | | | |
| --- | --- | --- | --- | --- | --- |
| SIZES (CM) | 165 | 172 | 179 | 186 | 191 |
| SIDECUT | 131-100-118 | 132-100-120 | 132.5-100-120.5 | 133-100-121 | 133.5-100-121.5 |
| RADIUS (M) | 15.6 | 16.3 | 17.3 | 18.4 | 19.4 |
Discount codes have been disabled for this product.
Top Notch Service
Recently ordered Nordica Enforcers after doing tons of research and hitting up the shop in person. Best prices around, and super fast service - skis and gear here within days. Highly recommend - especially supporting a local business - these dudes are rad!
The Freaking Best Ski Shop
Love the skis, but why would you take an amateur's advice when there's plenty of professional writing on this pair of skis, or any other… I'm here to talk about the 110% service given by Chris and the All-Stars. First, Chris offered to FaceTime with my sister and brother-in-law to talk through all their options (they purchased skis as well) because we are all the way across the country. Then, when our plane got delayed and we got to a closed store on Saturday afternoon, he came back and opened up the shop to make sure we were all set to begin a great week of skiing on Sunday. It's no wonder why I kept seeing Ski Town hats all over the mountain, they really are the best! I recommend a thousand times over!!
Totally satisfied!
I got a great deal on 2022 Nordica ski's. I'll definitely be back.
Enforcer 104 Free
If you're looking for a one ski quiver or daily driver that can rip groomers, ski a foot of pow, crush bumps/crud, and be maneuverable in trees…look no further. Arguably the most versatile ski that's ever existed. If you're an advanced to expert skier, this will never leave your side.
Best Ever
Had the previous Enforcer 100s for 4 years and were great in all terrain and many resorts. Have had these new ones for a couple of weeks and must admit, a cut above and can do no wrong. Enjoy.