Paul Cuthbertson Memorial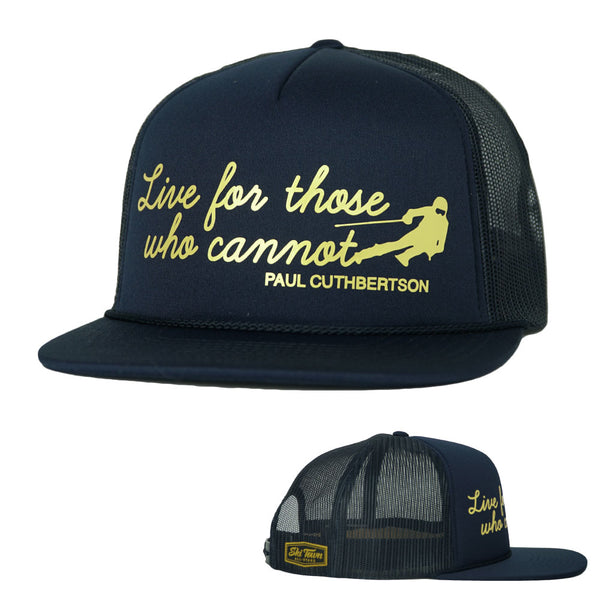 $10 from every hat sold gets donated to the Paul Cuthbertson Memorial Fund
Our friend, Paul Cuthbertson passed away May 19, 2019 in the place he cherished most; the outdoors. Beyond skiing and racing, Paul loved all kinds of outdoor activities. He was an avid mountain biker, sailor, camper, rock climber and river enthusiast. Paul had an insatiable desire to try new things. He began each new adventure with research, preparation and confidence. As a skilled musician, Paul also enjoyed making and recording music on the guitar and keyboards while jamming with friends. He was caring and compassionate and truly wanted to make the world a better place.
Paul's friends and family have started a foundation to support mountain youth who have a passion for life and a dedication to achieving excellence in their pursuits.
Proceeds generated from the sale of these hats will benefit the foundation set up in his name. The purpose of The Paul Cuthbertson Foundation is to invest in the next generation of young men and women by providing merit-based scholarships or grants that help them to pursue their dream and goals in life with a focus on competitive skiing, outdoor recreation, education, music, and the arts.
IF YOU WISH TO PICK UP IN EAST VAIL, PLEASE EMAIL US AT INFO@SKITOWNALLSTARS.COM WITH ORDER NUMBER
PREMIUM FOAM TRUCKER HAT
FIT: ADJUSTABLE SNAPBACK
FABRIC: FOAM/NYLON MESH
VISOR: FLAT/CURVED (CAN BE WORN EITHER WAY)
SWEATBAND: COTTON
DESIGNED AND ASSEMBLED IN Vail, Colorado
Hat size
Tshirt size is an ideal XL.
Hat is kinda small☹️
For real no one cares you're a ski instructor
I have had at least 4 of these hats already and they are very popular here in CO. Many people will comment that it's an awesome hat and some people agree that no one cares you're a ski instructor. Some people ask me for my hat, so I give it to them. That's why I buy more. The fit is great and it has always looked new because pretty much they've all been worn less than 10 times before I give it away. STAS makes great hats and we've recommended and bought some for friends and family. Maybe I should buy in bulk?
Greatest hats ever
Love the quality of these hats. Exactly what I was expecting. These hats are amazing, I'm always getting complemented on them. Go Pats!
Great hats.
Love all the slogans available. Even having the ability to customize is awesome. Thanks for the great hats!
Witty and comfortable
Ready for fall in the mountains. Love these foam truckers.