Pomoca Climb Pro S-Glide Skin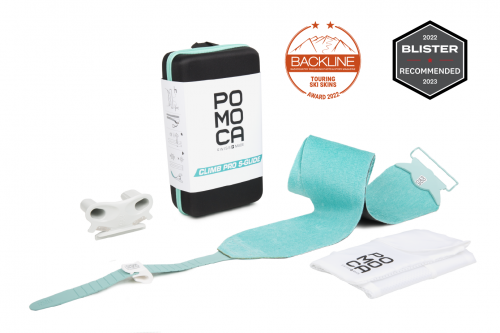 Ready2climb
Your skins ready in 2 minutes
The POMOCA R&D department works hard to make your life easier. Preparing a self-adhesive skin for skis can take a long time and requires specific knowledge. POMOCA has developped the new universal, light, and easy-to-apply ready2climb set. The ready2climb skin can be cut to a specific ski in just two minutes without any special tools. The adjustable loop can be fixed to any type of ski. For this system, POMOCA offers a complete list of skis on the market, so you can find the self-adhesive skin best suited to your needs.
Back Fix
A skin for all ski lengths
The Click Lock is fitted on the front of the skin making this a universal system. With just 3 screws, you can precisely fit this bracket to all skis, no matter the tip shape and length. With the skin adjusted to the ski length, the POMOCA precision cutter supplied allows you to trim the sides of the skin by automatically releasing the ski edges. Your pair of skins is ready in 10-15 minutes.