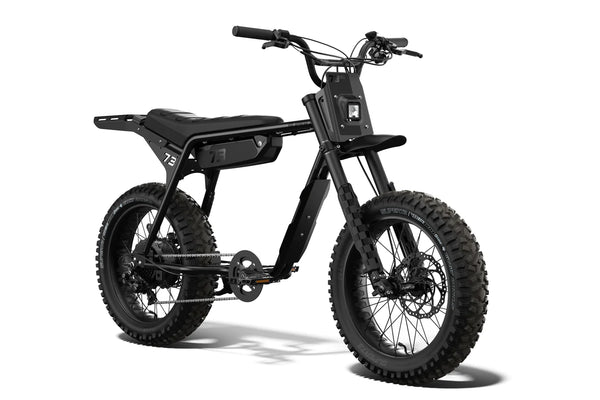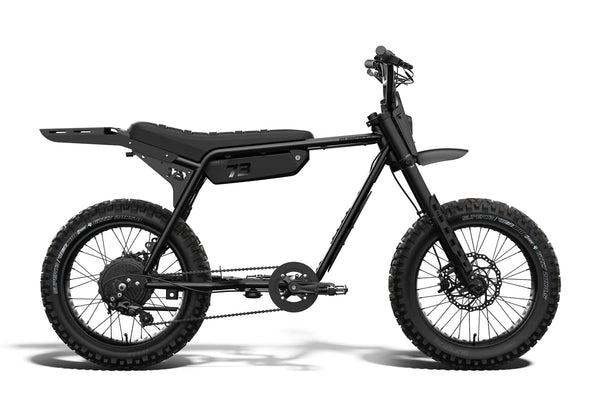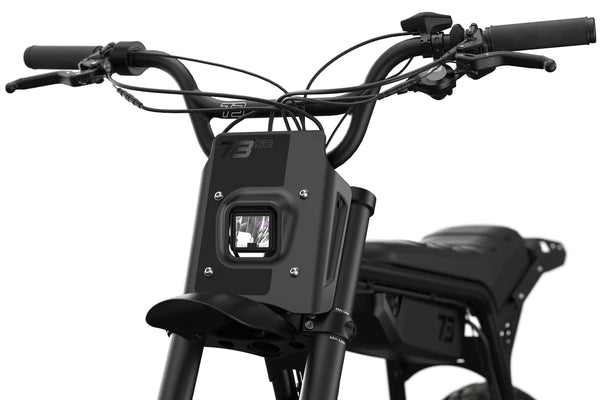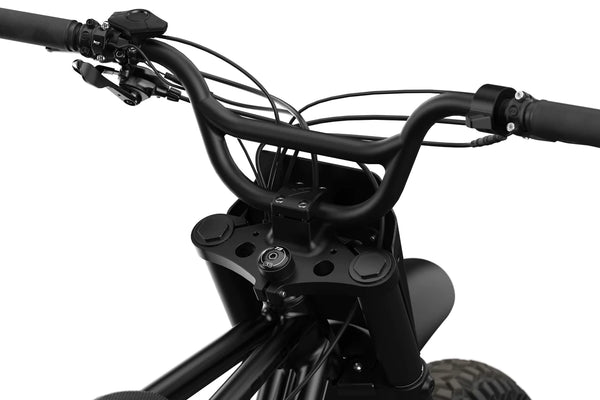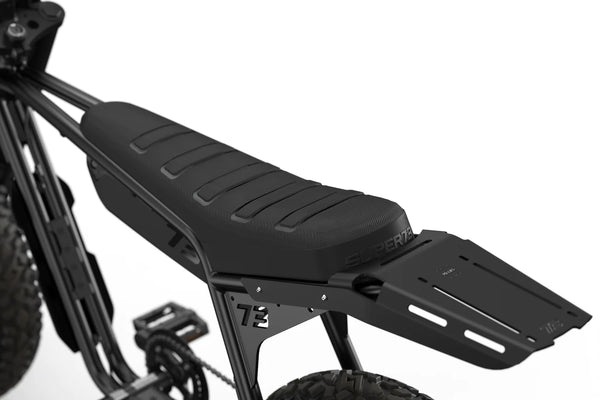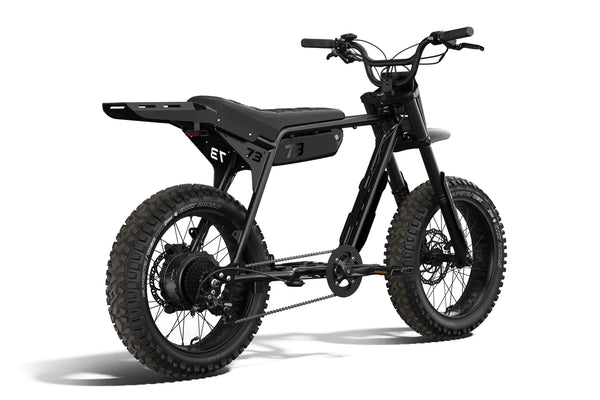 THE RETRO RACER
"Black is the absence of color in the presence of power." Take a bold leap into the elegant unknown with the SUPER73-Z Blackout SE. We've taken everything you loved about our Z-series models and painted them black with front suspension, Magura brakes, and sophisticated 8-speed gearing.
KEY FEATURES
8-SPEED GEARING
When the trail gets steep, we've got you covered. The Z Blackout SE comes standard with an 8-speed cassette, providing extra power to smooth out even the gnarliest hills.
REAR RACK
The Z Blackout SE comes equipped with a premium lightweight rack designed specifically for Z-series models. This versatile rack can carry loads of up to 10 lbs and features integrated passenger handholds.
HANDLEBAR
All models come equipped with the McFly handlebar except Snowshadow SE, which comes with lower-profile Blain handlebar (featured).
MAGURA BRAKES
These industry-leading Magura MT4e two-piston hydraulic brakes provide optimal braking performance in all conditions. Ensuring the ultimate rider confidence, Magura brakes not only check the boxes for optimal functionality, they also provide the ultimate in premium components for SUPER73's most alluring styling to date.
BLAIN HANDLEBAR
The Z Blackout SE features low to mid-rise Blain handlebars made from high-strength, low-weight chromoly steel. The Blain provides improved rider comfort with high showroom appeal.
THROTTLE FIRST
Each bike comes pre-programmed in the Class-2 mode, which allows for throttle operation and pedal-assist riding up to 20mph. Switch between ride modes to access Class-1, Class-3, and Off-Road mode to reach 28mph+.
REMOVABLE BATTERY
Charging on the go? We've made it easy for you with our removable battery. Get 40+ miles* of range at 20mph under Class-2 throttle-only operation; 75+ miles* of range using Class-1 pedal-assist mode.
SMART DISPLAY
Download the App
| Unlock all of Super73's e-bike features and receive over-the-air updates.
Navigation
| The app provides turn-by-turn navigation on both the Smart Display and your mobile device.
View Settings
| Easily change between pedal assist modes and view your current speed, remaining battery range, and more.
SPECIFICATIONS
TOP SPEED
Classes 1/2 20+MPH* Class 3/Off-Road: 28+ MPH*
RANGE
*30+ miles of range at 20mph under Class-2 throttle-only operation; 50+ miles of range using Class-1 pedal assist mode
CHARGE TIME
BATTERY
MOTOR
THROTTLE
GEARING & REAR DERAILLEUR
DIMENSIONS
WEIGHT
LENGTH x WIDTH x HEIGHT
RIDER WEIGHT LIMIT
SEAT HEIGHT
FRAMESET
FRAME
SUSPENSION
BRAKES
TIRES
GRZLY / 4.5" Front / 5" Rear
INNER TUBES